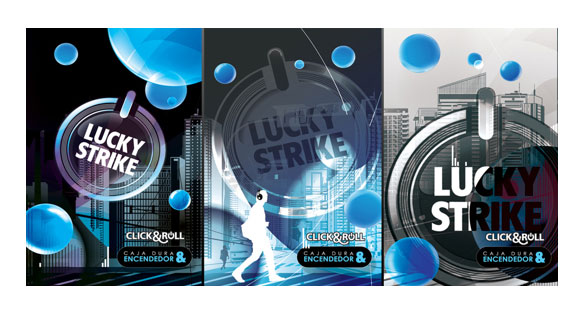 British American Tobacco recently released an innovative new concept in cigarettes called Lucky Strike Click & Roll. The cigarettes were first released in May 2011 in key duty free locations in Asia Pacific such as Hong Kong and Singapore, with releases in other Asia Pacific countries continuing as the year progresses.The cigarettes contain a menthol capsule in the filter that is activated when the filter is clicked, meaning that customers can enjoy the classic Lucky Strike taste experience or opt for menthol flavor: "This is a good example of the ways in which BAT is continuing to spearhead innovation in the industry," says Karen Koh, Account Manager – Global Travel Retail, BAT. "It's about giving our customers options".
We've found many people prefer to activate the menthol capsule near the end of the cigarette for a fresh, menthol finish.They have 10 mg nicotine and 0,7 mg tar. The special thing on these cigarettes (that's why the called "Click & Roll") is that one can click the filter and roll the cigarette at any time during the smoking experience it can be activated and then the taste will change from usual taste to Menthol taste.
CLICK the capsule to change the taste and then just roll it around to turn it up. Sometimes, Always, Never, It's up to you. Enjoy freedom of taste. By Luckies.