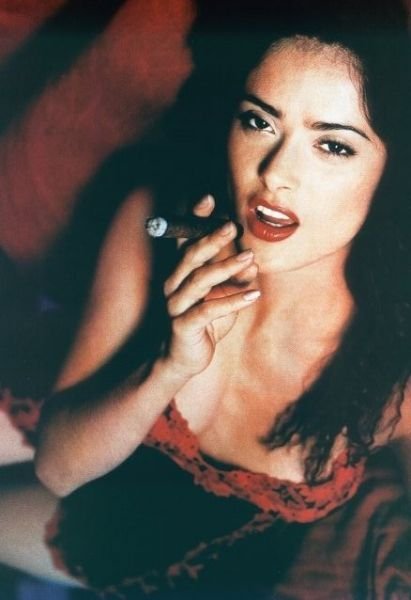 Mexican actress Salma Hayek picked up smoking for a movie part and has been hooked for 10 years. But she says she's finally kicked the habit.
The 45-year-old actress developed the bad habit when she played Mexican painter Frida Kahlo in a movie about her life.
Hayek confesses she got so used to puffing on cigarettes as the chain-smoking character, she couldn't put them down when filming wrapped.
"I hated cigarettes and I had to learn how to do it for the movie…" she says.
"When I started, I was smoking some horrible, old Mexican cigarettes without a filter, because that's what Frida used to smoke.
Check out Salma's photos; click to enlarge.
"So, at the beginning, I used to throw up after a couple of scenes and then I actually got addicted to that thing that I hated so much," she said.
Her battle to quit has been an on-gain, off-again effort.
"I stopped (for) two years when I was pregnant and I was breastfeeding. Thank god I breastfed for so long because it kept me away from the cigarettes.
"I tried to give it up but then I picked it up again, I tried everything… [but] I am free and clear now. Yes! For good!" she proclaims.
Hayek's career took off at 23 in 1989 when she landed the title role in "Teresa," a successful Mexican telenovela that made her a star in Mexico.
Her American film career began with a starring role opposite Antonio Banderas in 1995′s Desperado, followed by a starring part opposite Matthew Perry in the 1997 romantic comedy "Fools Rush In."
In 2007, Hayek confirmed her engagement to a French billionaire and PPR Chief Executive François-Henri Pinault.
She was pregnant at the time and gave birth to daughter Valentina Paloma Pinault on Sept. 21, 2007.
Hayek caused a stir when she was photographed smoking in Dec. 2008, while she was still breastfeeding.
She was photographed again, in Feb. 2009, breastfeeding a starving infant in Africa.
Salma said she was weening her daughter Valentina at the time and felt it necessary to feed the other child, too.
Salma talks about her cigarette addiction on David Letterman. Check out the interview below. She gets to the subject about 5:30 into the interview.