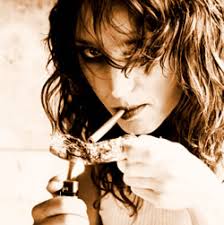 Do electric cigarettes really help people kick the habit for good? About 1 million smokers worldwide are hoping "e-cigarettes" will cure them of their addiction. But not everyone thinks they can live up to the claim.
Results from the first-ever U.S. study on e-cigarettes have been released.
Hollywood movies got Freda Souligny smoking at age 13. Now 81, she had a pack-a-day habit for 61 years. She stopped when emphysema led her to electric cigarettes two months ago.
"This made the transition easier. I didn't feel this horrible withdrawal," said Freda.
Battery-operated, they deliver nicotine vapor through an adjustable cartridge, and cost about $60 to start. Freda kicked her habit by slowly cutting the nicotine dose over several weeks.
But Virginia Commonwealth University Psychology Professor Thomas Eissenberg says e-cigarettes are misleading.
"We wanted to know if they really delivered nicotine, one of the things they're supposed to do, if they really produce some of the same effects of a tobacco cigarette," said Eissenberg.
A pair of studies found while real Kent cigarettes deliver nicotine, e-cigs do not – despite claiming to do so.
"Neither of them delivered nicotine, which was surprising, because that is in fact exactly what they are supposed to do," said Eissenberg
Eissenberg says smoking an e-cigarette is just like puffing on an un-lit cigarette: no nicotine, no tobacco, nothing.
"Well, you have to tell me what changed my life," said Freda. She doesn't agree. "It wasn't medication, 'cause I didn't take medication," she said.
The studies do say e-cigs can cut the urge to smoke by nearly half. So Freda's mind may be tricking her body, but she doesn't care.
"To me it's just been miraculous," said Freda.
Miraculous, or smoke and mirrors? It really doesn't matter as long as you quit.
Eissenberg says e-cigs may indeed be a key tool in helping people quit standard cigarettes. Still, he's calling for tighter government control of the products. The reason: If they don't do what they claim to do, consumers have the right to know.