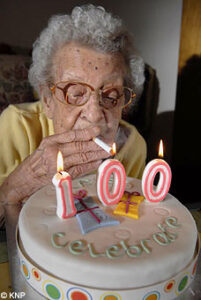 An iron-lunged pensioner has celebrated her 100th birthday by lighting up her 170,000th cigerette from a candle on her birthday cake.
Winnie Langley started smoking only days after the First World War broke out in June 1914 when she was just seven-years-old – and has got through five a day ever since.
She has no intention of quitting, even after the nationwide ban forced tobacco-lovers outside.
Speaking at her 100th birthday party Winnie said: "I have smoked ever since infant school and I have never thought about quitting.
"There were not all the the health warnings like there are today when I started. It was the done thing."
Winnie, from Croydon, South London, claims tobacco has never made her ill.
She has outlived a husband, Robert, and son, Donald, who died two years ago aged 72.
The former launderette worker said she started the habit in 1914 – just weeks after the assassination of Archduke Franz Ferdinand in Sarajevo on June 28 – which sparked the First World War.
The 100-year-old, who is awaiting her telegram from the Queen today, said smoking helped calm her nerves during the two World Wars.
She said: "A lot of people smoked during the war. It helped steady the nerves."
Despite the numerous health warnings, Mrs Langley insists she's never suffered because of the habit as she "has never inhaled".